Minimize the impact of unscheduled maintenance
Veryon Diagnostics is the answer for commercial fleets to reduce
delays and cancellations, delivered in a single seamless aviation
management software solution.
Unscheduled maintenance happens, and Veryon Diagnostics ensures your team is proactive to maximize uptime.
0

K

Maintenance events analyzed each month
0

%

Reduction in troubleshooting time
0

%

Reduction in delays & cancellations
Act faster
Leverage advanced technology and intelligent data analysis to identify, analyze, and act on unscheduled maintenance events at both the tail and fleet level.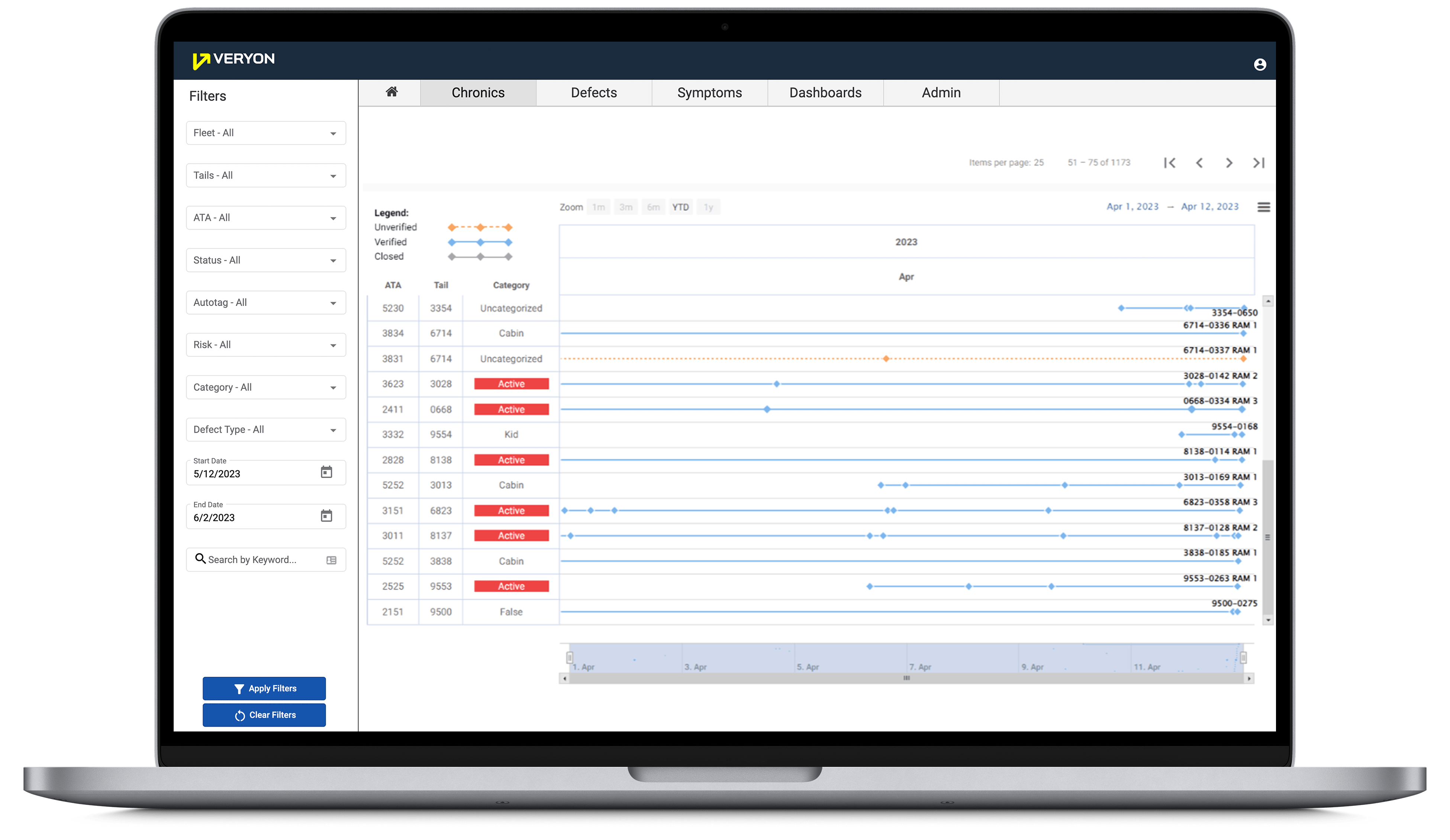 Earlier chronic defect detection
Automatically identify new or changing chronic issues as early as the second repeat, offering a 33% reduction in chronic and repeating defects and helping airlines maintain aircraft availability.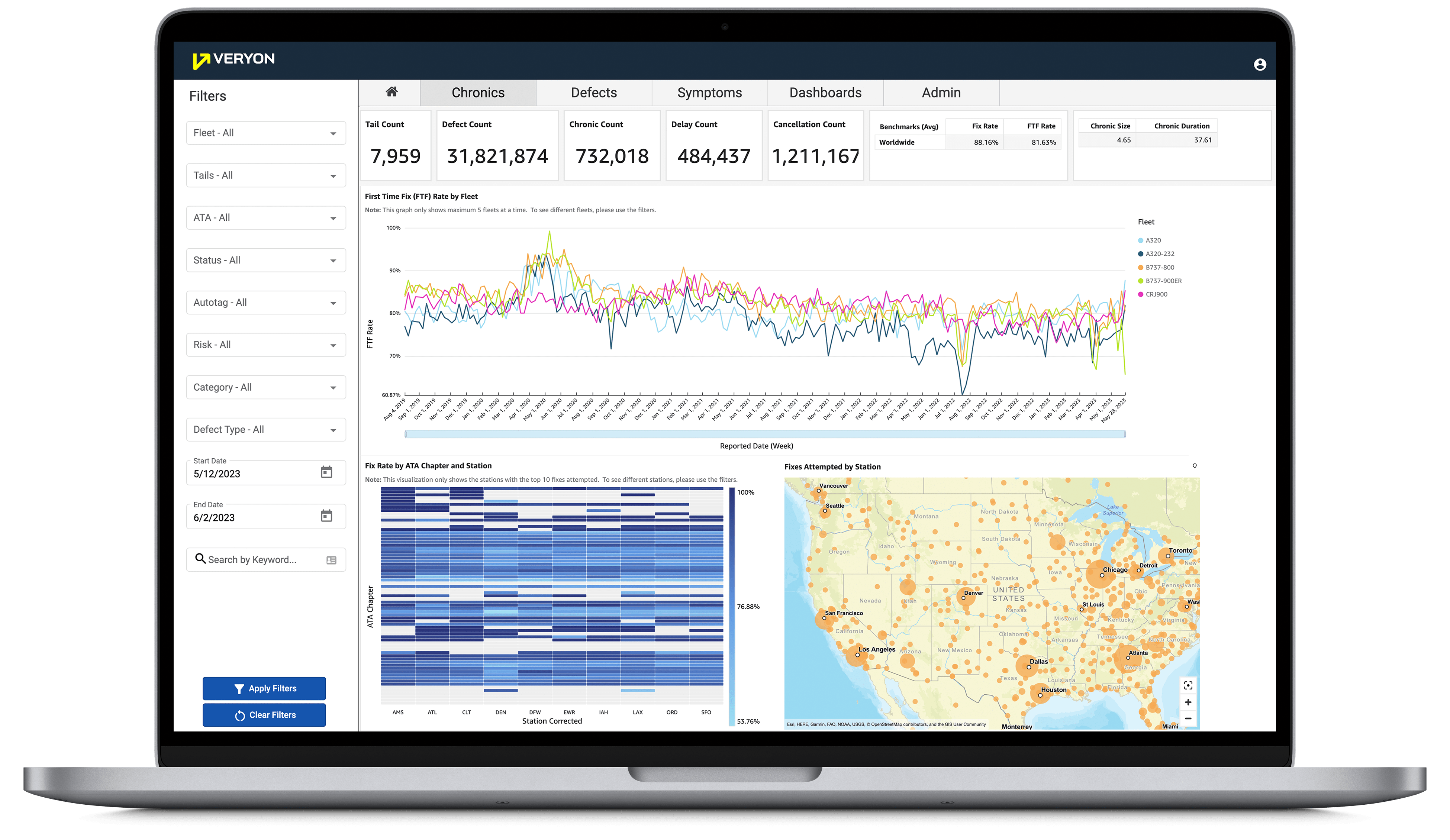 Faster resolution
Immediately validate chronic aircraft defects with collaboration and workflow tools for seamless communication between MOC, reliability, and line maintenance, guaranteeing a single source of truth.

Initial symptom profiles
Easily identify solutions to a defect and access relevant manuals or guided troubleshooting with a single click.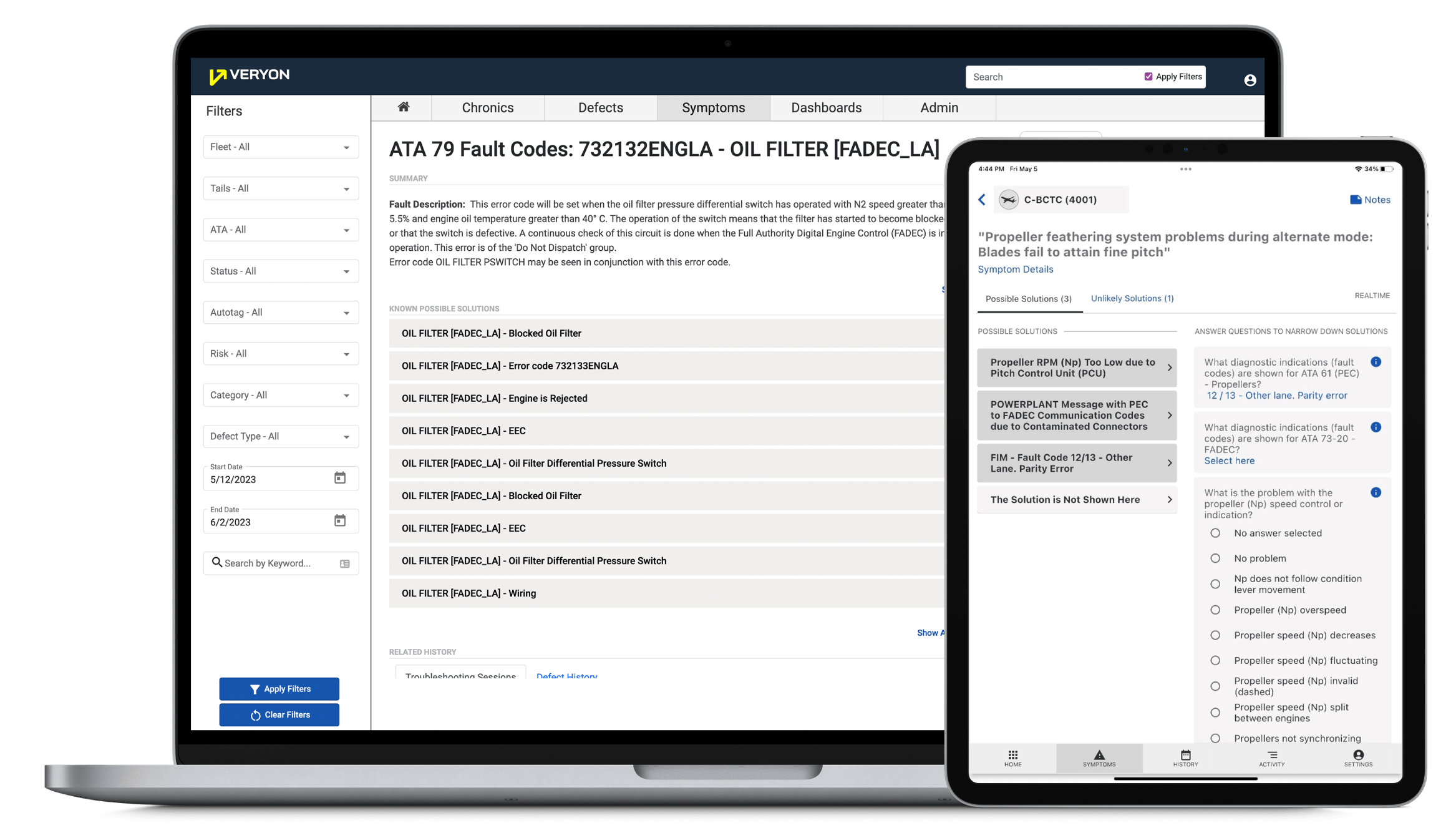 Diagnostics mobile provides your teams secure and reliable access to your data and guided troubleshooting on the go from anywhere in the world.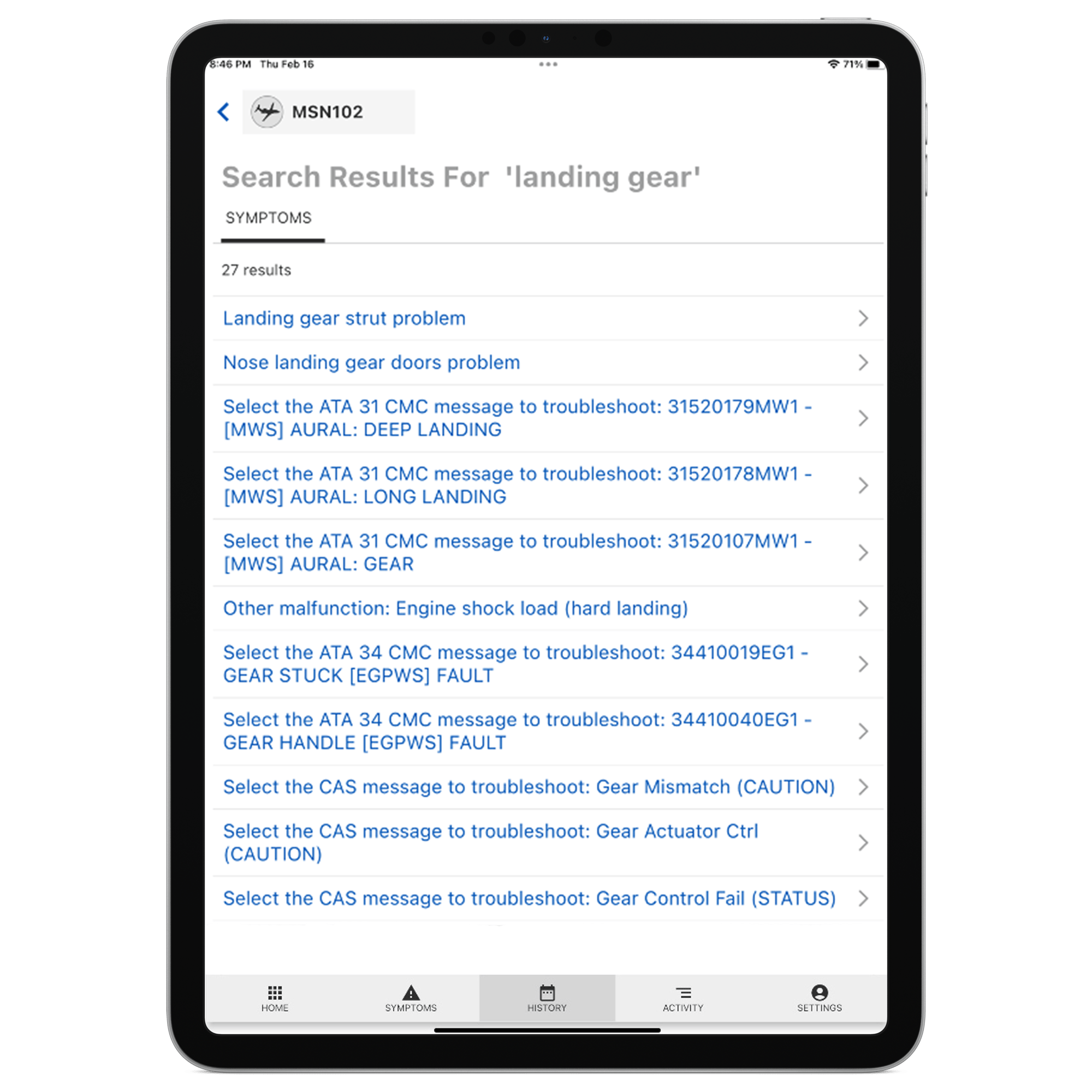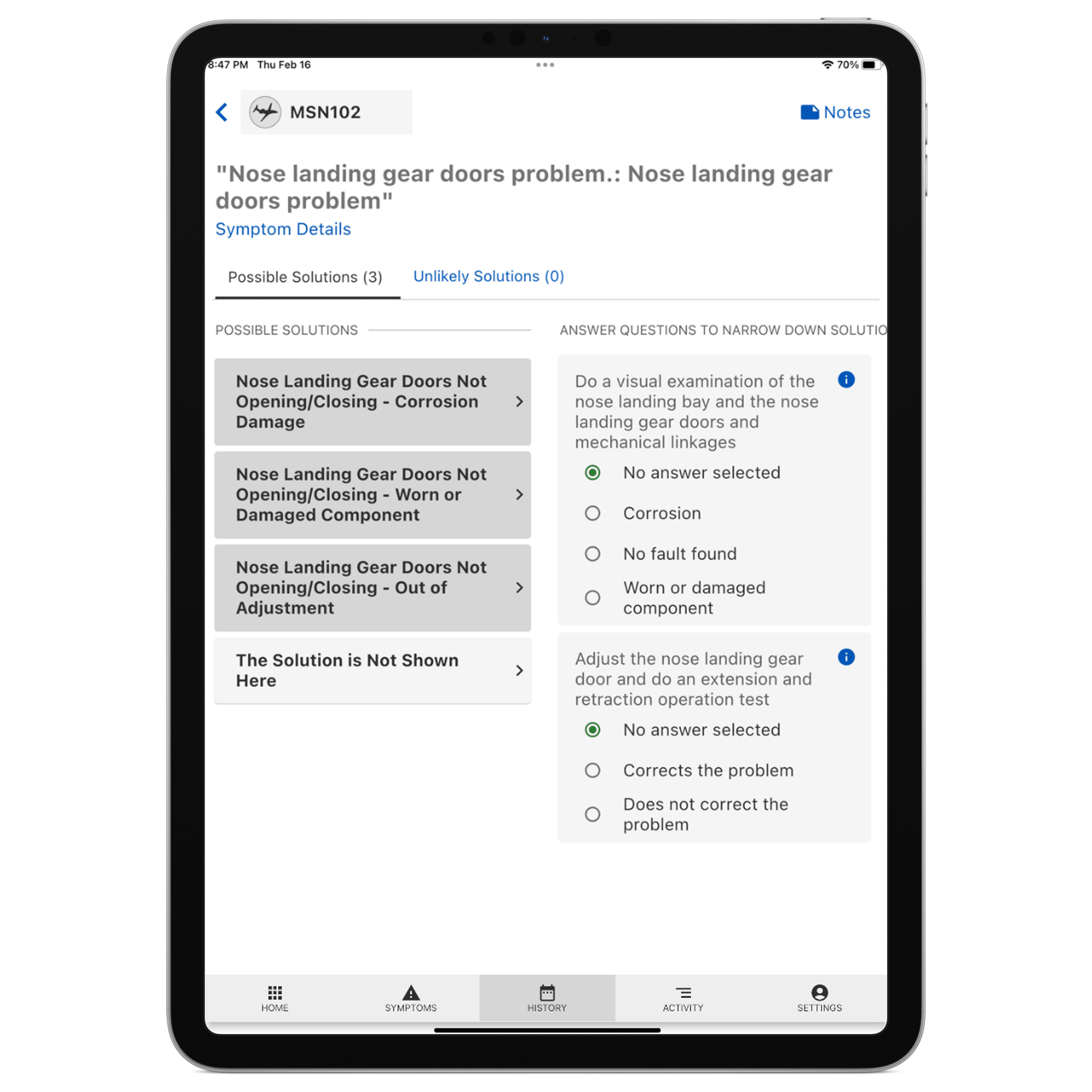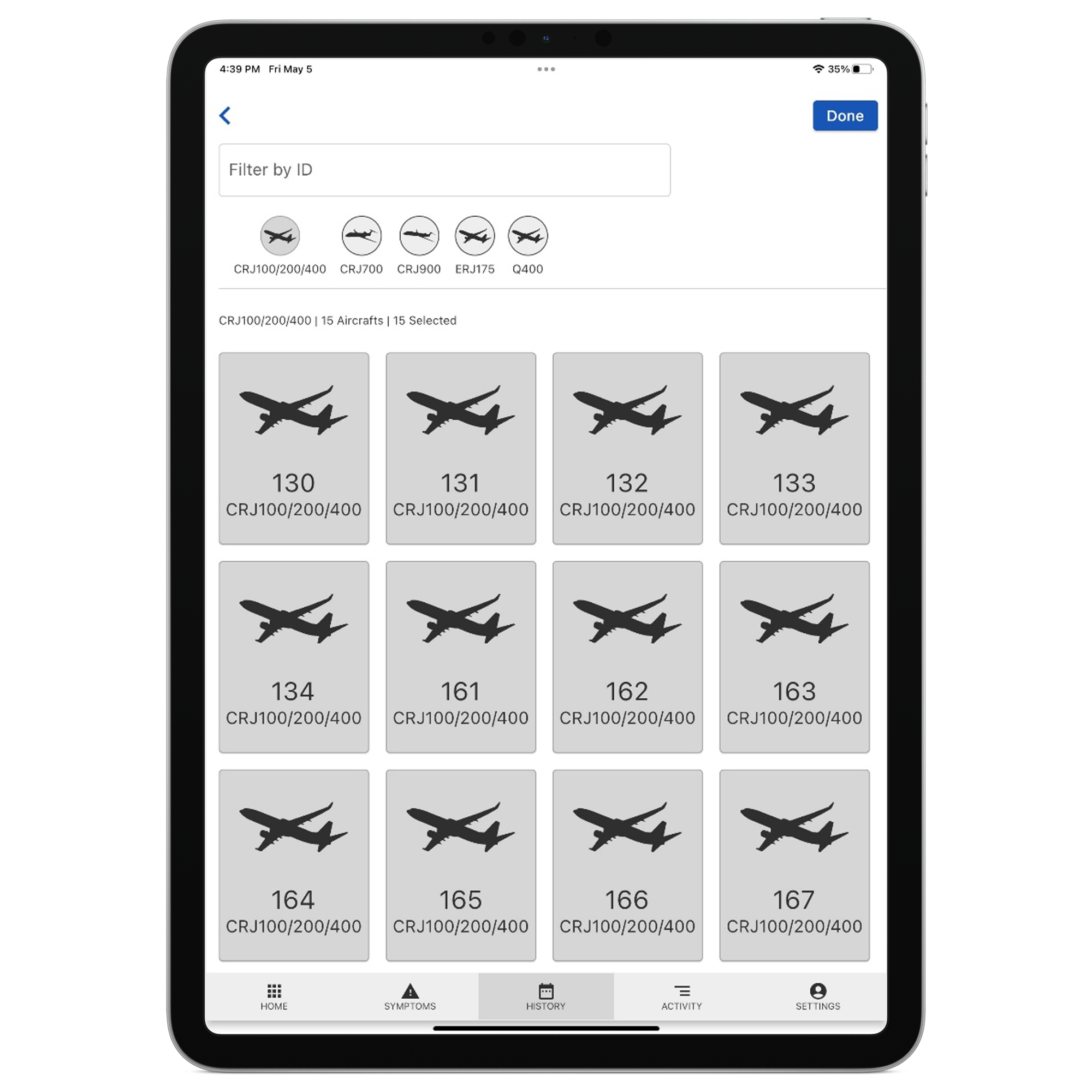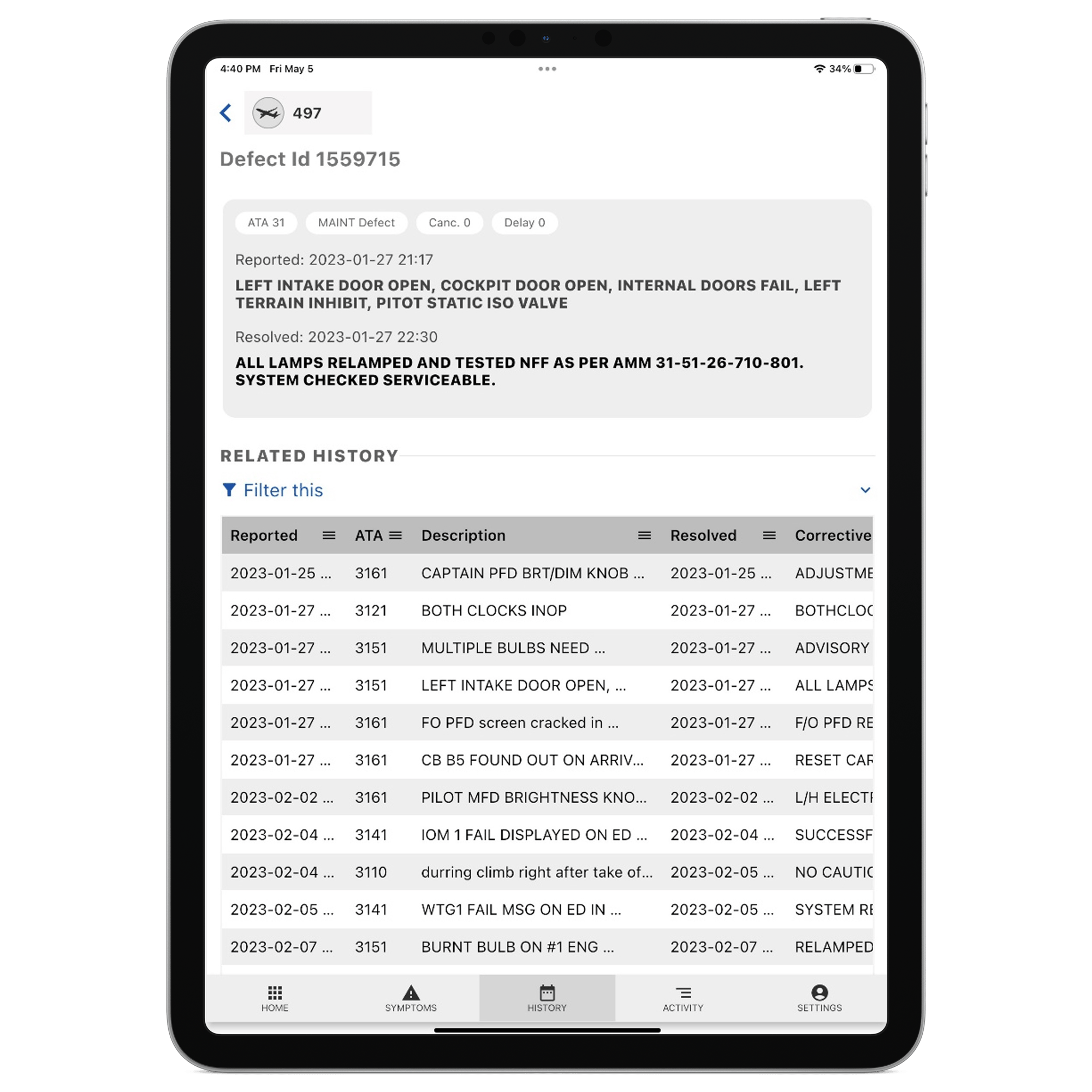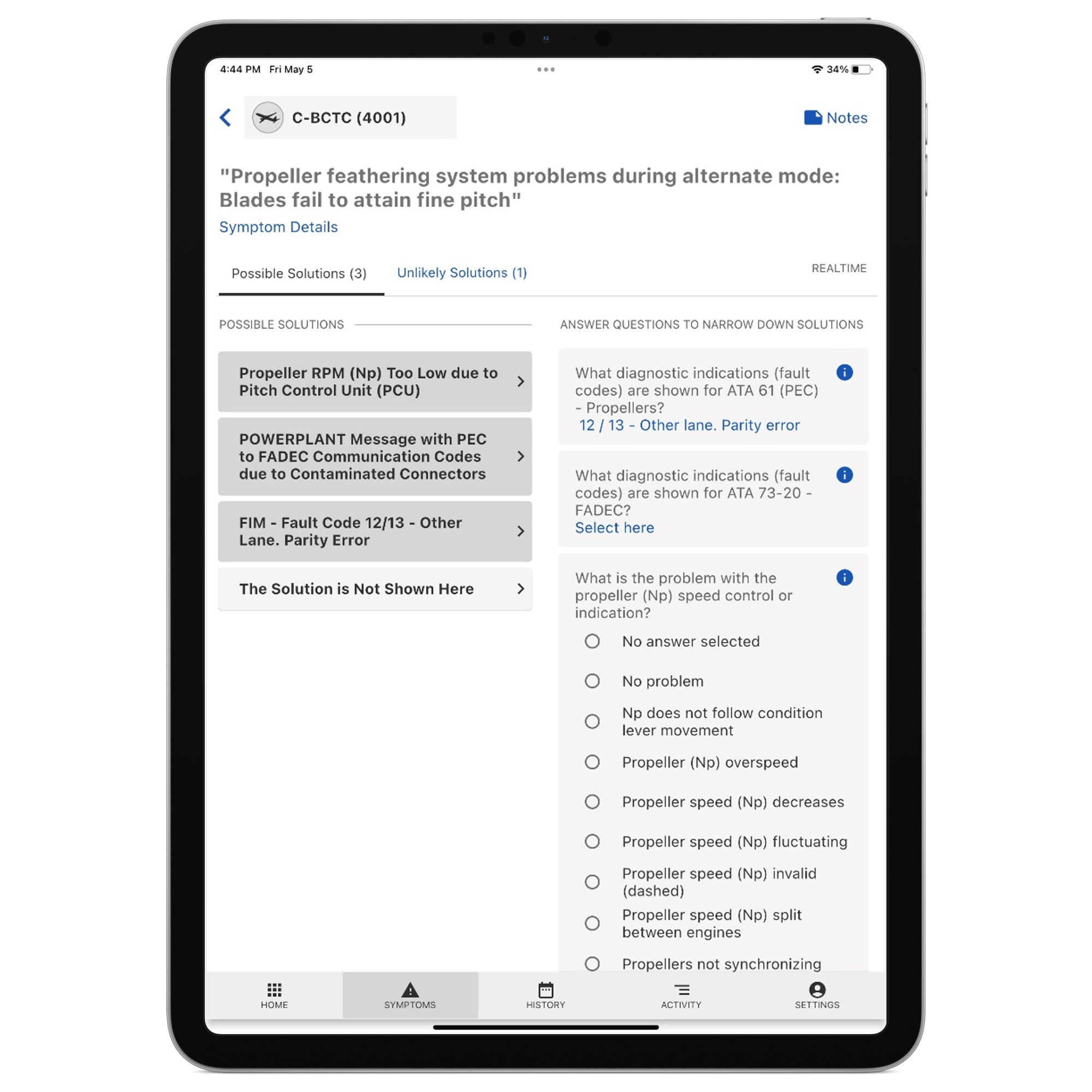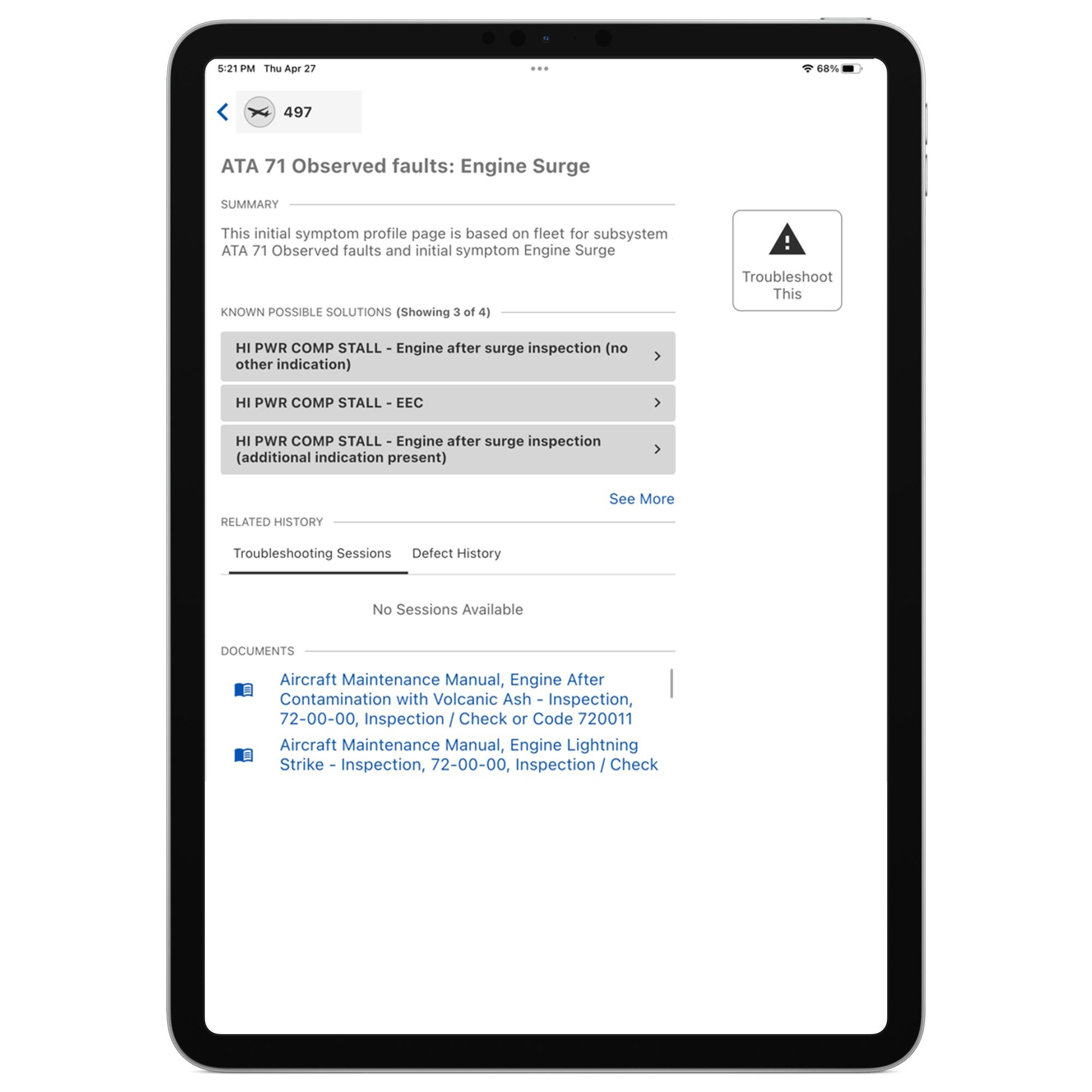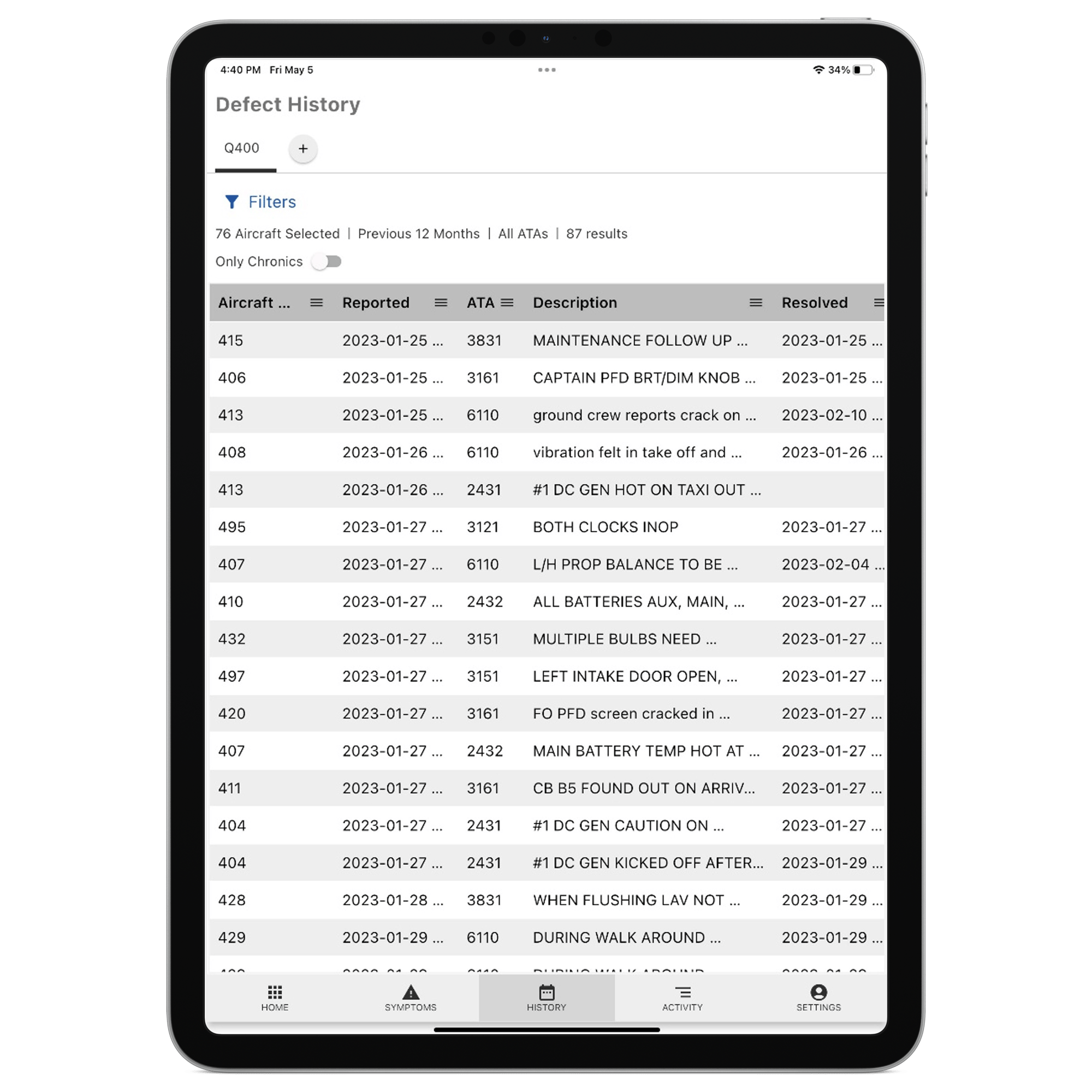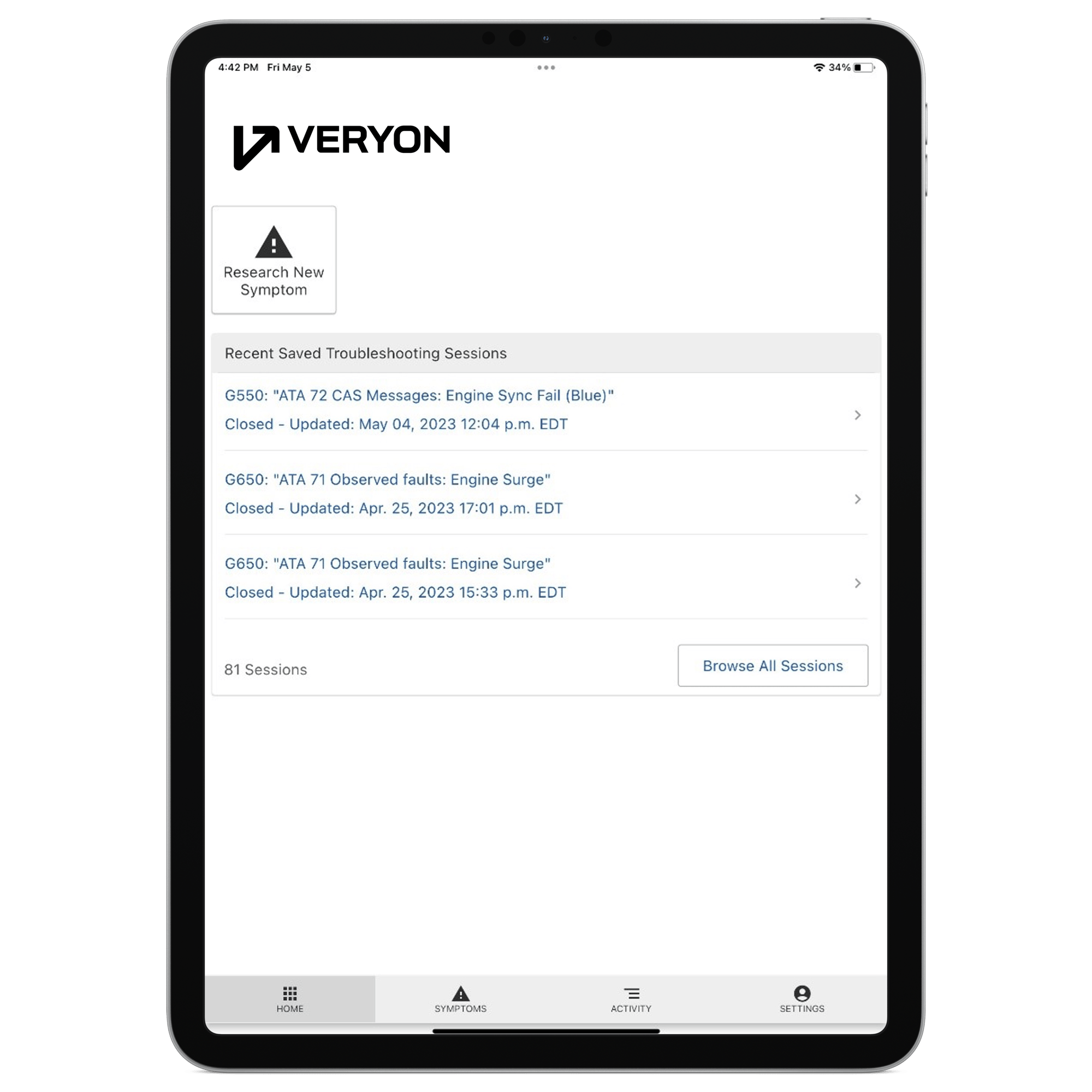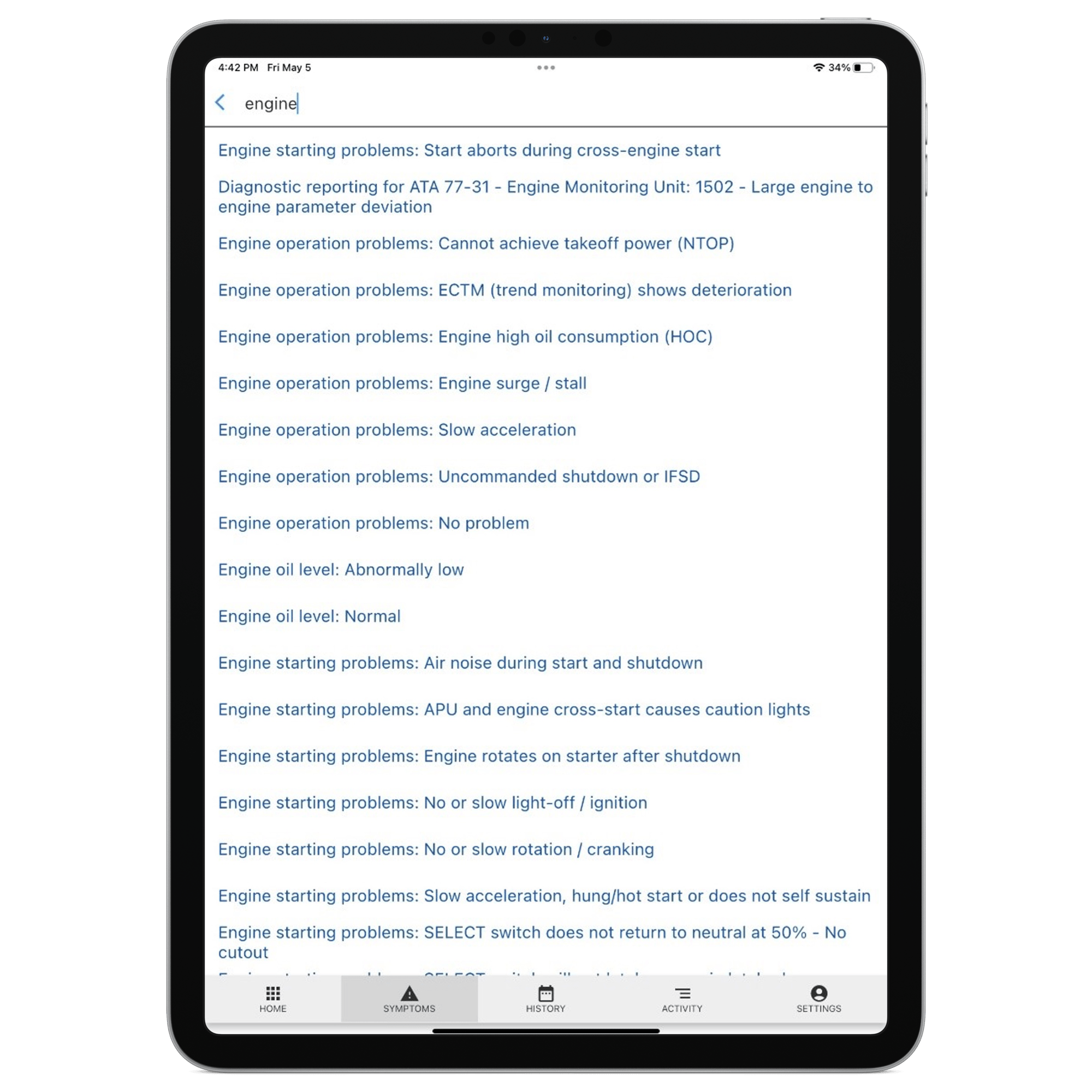 Chronic identification
Automatically analyze and group defect text using natural language processing and machine learning.

Custom notifications
Configure custom alerts and notifications based on defects to instantly notify your team.
Fleet level clustering
Effortlessly identify defect patterns across your entire fleet or within specific aircraft types.
First time fix
classification
Automatically determine if a fix on a defect successfully resolved the issue without causing a recurrence.
Synonym
dictionary
Identify chronic defects with spelling variations, synonyms, abbreviations and more.
Configurable dashboards, reports, and filtering
Create dashboards and filter, and sort reports using custom data elements to analyze defects and chronic trends.
Guided diagnostics
Step-by-step aviation troubleshooting guide using a series of specific and dynamically delivered questions and answer options.
Centralized collaboration
Activity feed and notes empower your technicians to create a smarter feedback loop by connecting them with colleagues and OEMs using images, video, and notes to assist with troubleshooting.
Intelligent symptom search
Quickly search and identify potential fixes faster using the symptoms, description, ATA, hyperlinks or codes.
Veryon diagnostics improves aircraft availability by combining the capabilities of Defect Analysis and Guided Troubleshooting.
The Veryon fleet management software suite provides everything you need to run your operation effectively. This fully integrated solution is proven to reduce delays and cancellations, save time, and increase aircraft uptime in a modern and secure cloud-based environment.

Defect analysis
Automatic identification of chronic aircraft problems, recurring defect resolution management, and defect analysis.

Guided troubleshooting
Fault isolation solution providing interactive and collaborative aircraft troubleshooting while capturing new field experience.