What's included?
Veryon Publications for Thrush customers is available anytime and anywhere on several platforms, including desktop, laptop, and mobile devices. In addition to the Illustrated Parts Catalog and online ordering, a variety of service manuals and regulatory and technical publications packages are available. This includes a full Thrush Aircraft library bundle, individual bundles for the Thrush 510P, 510G, and 710P, and a legacy bundle which includes all other Thrush Aircraft models, from the very beginning of the company.
About Veryon Publications
Veryon Publications is a single source for aircraft technical publications and regulatory content.

With over 1,700 libraries across 100 airframe, engine, and equipment OEMs, the Veryon provides users web, mobile, and desktop access to every publication they need to carry out their maintenance and missions.

Now integrated with Veryon Tracking, users have the ability to access their libraries with just one click from within maintenance tracking.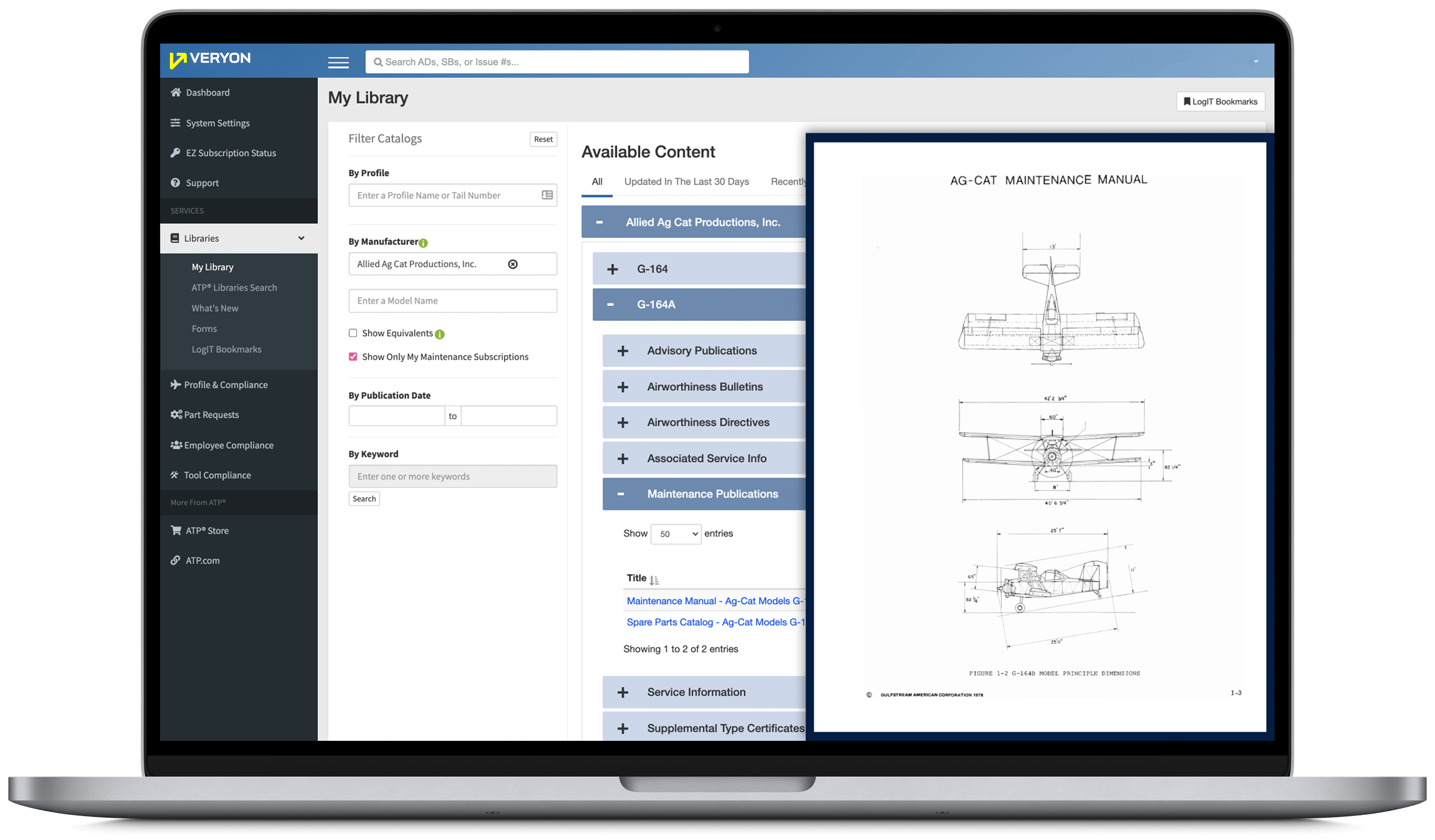 Advanced search
Save valuable time searching for information across a full range of manufacturer publications when servicing an aircraft.
Profile and compliance
Aircraft research and compliance record-keeping for aircraft ADs and SBs is faster and more accurate with Veryon Technical Publications.
Mobile ready
Each template is responsive and designed to look awesome on all devices.
"The big advantage it offers is internet access, which becomes especially important when one of our aircraft gets into an AOG (aircraft on ground) situation, and we have to send a mechanic out to where it is. Once he gets there, all he needs is an internet connection. There is no need for him to take volumes of paper manuals."
"We feel like Veryon Technical Publications is a much better product for us in that we no longer are required to do the constant updating of libraries. It's all done online for us, which has been a big plus."
"The accessibility of the web-based documents in Veryon Publications was a feature we felt was extremely important, along with the fact that it is also extremely user friendly and easy to learn. And I have every confidence that no matter where I am, or when I need it, the information I am getting is current."
"Since we began using Veryon Publications, we estimate that the information search time component of the audit preparation process has been up to 80 percent faster."