VERYON OEM Aviation Services Libraries & Technical Publications
Focus operations, grow revenue, improve safety, and increase customer satisfaction.
Changing how aviation uses technical publications
Interactive technical publications
Veryon takes original OEM and regulatory content, adds relevant metadata such as make and model, keywords, terminology updates, and revisions, resulting in fully interactive tech pubs. This allows for a rich and comprehensive search and compliance experience.
Scalable secure distribution
Publications are accessible to customers through the Veryon Publications platform which employs a secure and scalable server infrastructure and features a powerful modern interface. Veryon handles all the related work, reducing spend and eliminating the need for multiple vendors.
Guarded access control
Veryon gives you complete control over your publication distribution, ensuring the right customer has access to the correct and most current information. Veryon supports and enhances your publications with entitlement policies and custom strategies for customer access control.
Complete subscription management
Veryon manages sales and subscriptions of all publications, including payment processing and marketing. In addition, all users have access to our award-winning customer support, increasing publication accessibility and compliance while managing OEM spend.
Improved publication quality
Veryon provides powerful and clear analytics tools to track publication activity. Gain insights into when, where, and how users are accessing and using your publications. Use live data to instantly improve the quality of your services, while streamlining publication and distribution.
Additional revenue streams
Veryon applies smart data processing technologies that embed parts ordering directly into your publications, making it convenient for users to source the right parts from you or your approved distributors. Royalty agreements may also be a good option for some OEMs.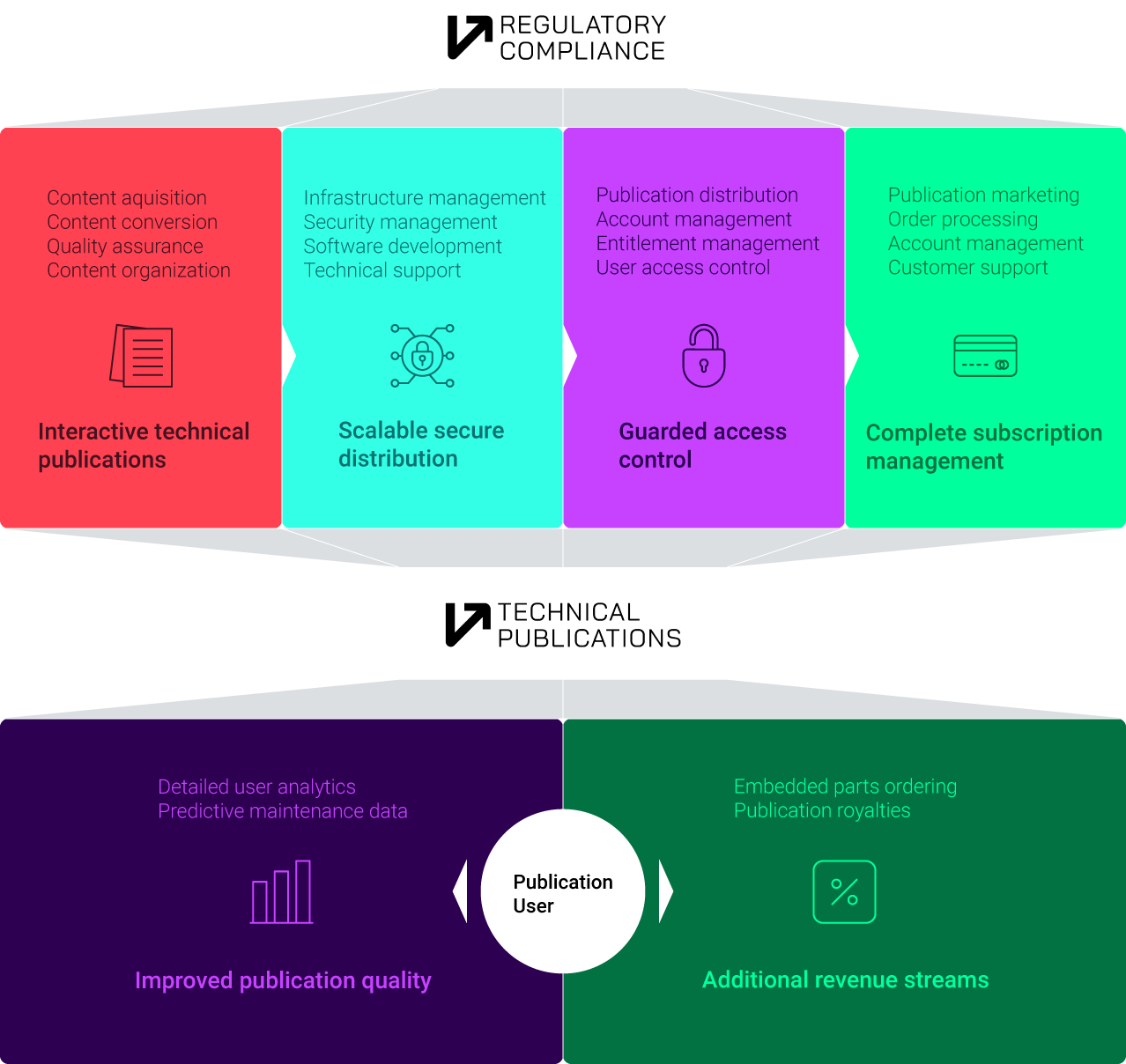 Benefits for your business
Focus on your core business
Reduce and focus your operational costs by outsourcing publication management and distribution while introducing additional revenue streams.
Grow your revenue
Optimize your publications by adopting industry-leading Veryon technology and services, to create integrated and direct parts ordering.
Increase repeat business
The tight integration with Veryon technology and services leads to improved customer satisfaction, repeat business, and faster new customer acquisition.
Benefits for your customers
Easier compliance
Incorporate FAA and EASA and other CAA publications into your documentation to help ensure your customers have all the critical data they need at all times.
Enhanced safety
Control how your customers locate information to ensure they are referencing the correct documentation for any maintenance event they face.
Improved support
Provide your customers with better support and improve their overall experience with the help of Veryon technology and services.
Partner with Veryon, the number one source for technical publications and real-time regulatory information.
Contact us to learn how you can leverage our comprehensive partnership opportunities with Veryon. License the services you need for your unique business requirements.